25/02/2022
IDEKO strengthens its position as a centre specialising in advanced manufacturing by joining Fedit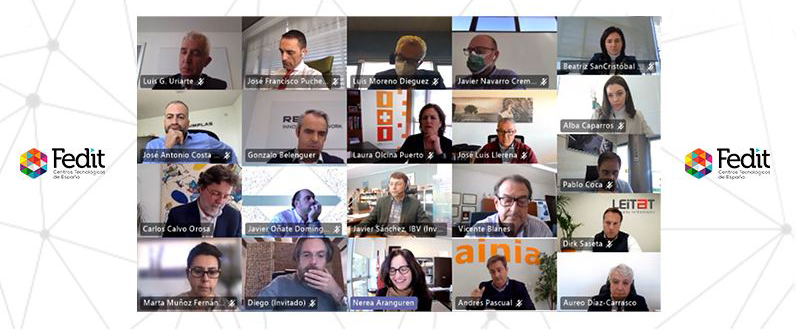 The entity has recently joined the Spanish Federation of Research Centres (Fedit) to further strengthen its involvement in the fields of artificial intelligence and precision.
The IDEKO research centre, a member of the Basque Research and Technology Alliance (BRTA), has taken a new step in its bid to strengthen its position as a benchmark entity in advanced manufacturing by joining the Spanish Federation of Research Centres (Fedit).
The news of the Elgoibar centre joining was made official at the Extraordinary General Meeting of the Federation, which took place on 22 February. Nerea Aranguren, Managing Director of IDEKO, took part in the online event.
"Being part of Fedit will allow us to continue strengthening our position as a national benchmark research centre in the development of advanced manufacturing technologies, with a special focus on the fields of artificial intelligence applied to manufacturing and precision machines and processes," says Aranguren.
Founded in 1996, Fedit is dedicated to promoting innovation and technological development with the aim of increasing the competitiveness of companies.
"The Fedit organisation is a key player in boosting private R&D&I and a strategic ally of the industrial fabric. For IDEKO, being part of this federation means continuing to pave the way towards creating new partnerships in order to become a benchmark in cutting-edge technological development and its transfer to the market," adds Aranguren.
Apart from IDEKO joining, it was announced at the Fedit Meeting that more research centres joined the Federation, such as IKERLAN, AINIA, AITEX, IBV, ITI, ITENE and AIMPLAS. With these latest incorporations, Fedit's National Network of Research Centres now has a total of 44 members and 3 regional groupings: REDIT, ATIGA AND ADITECH.
"We are a formidable force for driving innovation in our country," said Fedit President Carlos Calvo during the Meeting.
The Federation belongs to various international associations and bodies, including the Executive Committee of the European Association of Research and Technology Organisations (EARTO) and the Executive Committee of the International Network for Small and Medium Enterprises (INSME).