25/03/2022
IDEKO presents its latest advances in thermal effects compensation at the Thermal Issues international forum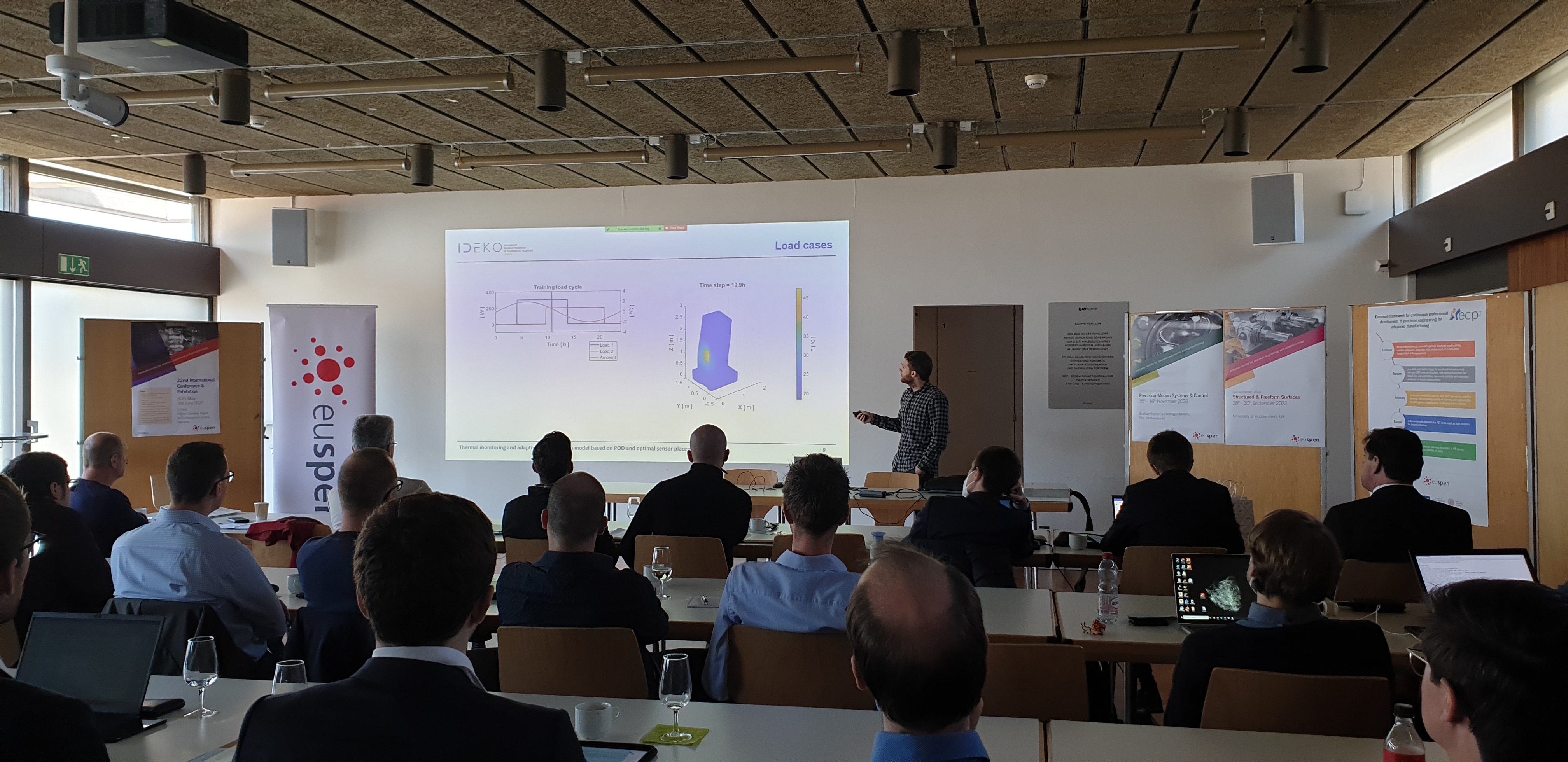 The researchers at the research centre, Beñat Iñigo and Gorka Agirre, participated at the congress organised by the European Society for Precision Engineering and Nanotechnology (EUSPEN) on 22 and 23 March in Zürich.

Within their specialisation in precision engineering solutions applied to improve industrial equipment and machinery, the IDEKO research centre was prominently present at the latest Thermal Issues international forum, held in-person in Zürich, Switzerland on 22 and 23 March 2022.
Specifically, the IDEKO researcher, Beñat Iñigo, who belongs to the Design and Precision Engineering group, presented the centre's latest advances in thermal effects compensation at the Congress, led by the European Society for Precision Engineering and Nanotechnology (EUSPEN), in which IDEKO formed part of the organising committee.
Beñat Iñigo's presentation "Thermal monitoring and adaptive compensation model based on POD and optimal sensor placement", given on Wednesday 23 March, showed a monitoring system capable of detecting erratic thermal behaviour or the appearance of new heat sources in equipment and precision machinery.
"Thermal errors are one of the main sources of error that affect the volumetric accuracy of a machine tool. Compensation of these errors is a low-cost solution that can improve machine precision", explained Beñat Iñigo.
The IDEKO researchers obtained these compensation models by carrying out a learning test in which the variation of temperature and displacements occurring at different points of the machine were measured. After this initial test, periodic measurements were carried out in order to verify the compensation model was functioning correctly.
Furthermore, Gorka Agirre, doctor and specialist at IDEKO in machine analysis and behaviour from the precision point of view, was present as a moderator of one of the event sessions dedicated to thermal monitoring and adaptive compensation.
Held for the first time in-person since the start of the pandemic, the Thermal Issues event 2022, brought together over two consecutive days the principal international leaders in the world of thermal effects applied to manufacture, who presented their latest trends and research in this field.