09/06/2022
The latest advances in artificial intelligence, precision, robotics and composites, new developments from IDEKO for the Machine Tool Biennial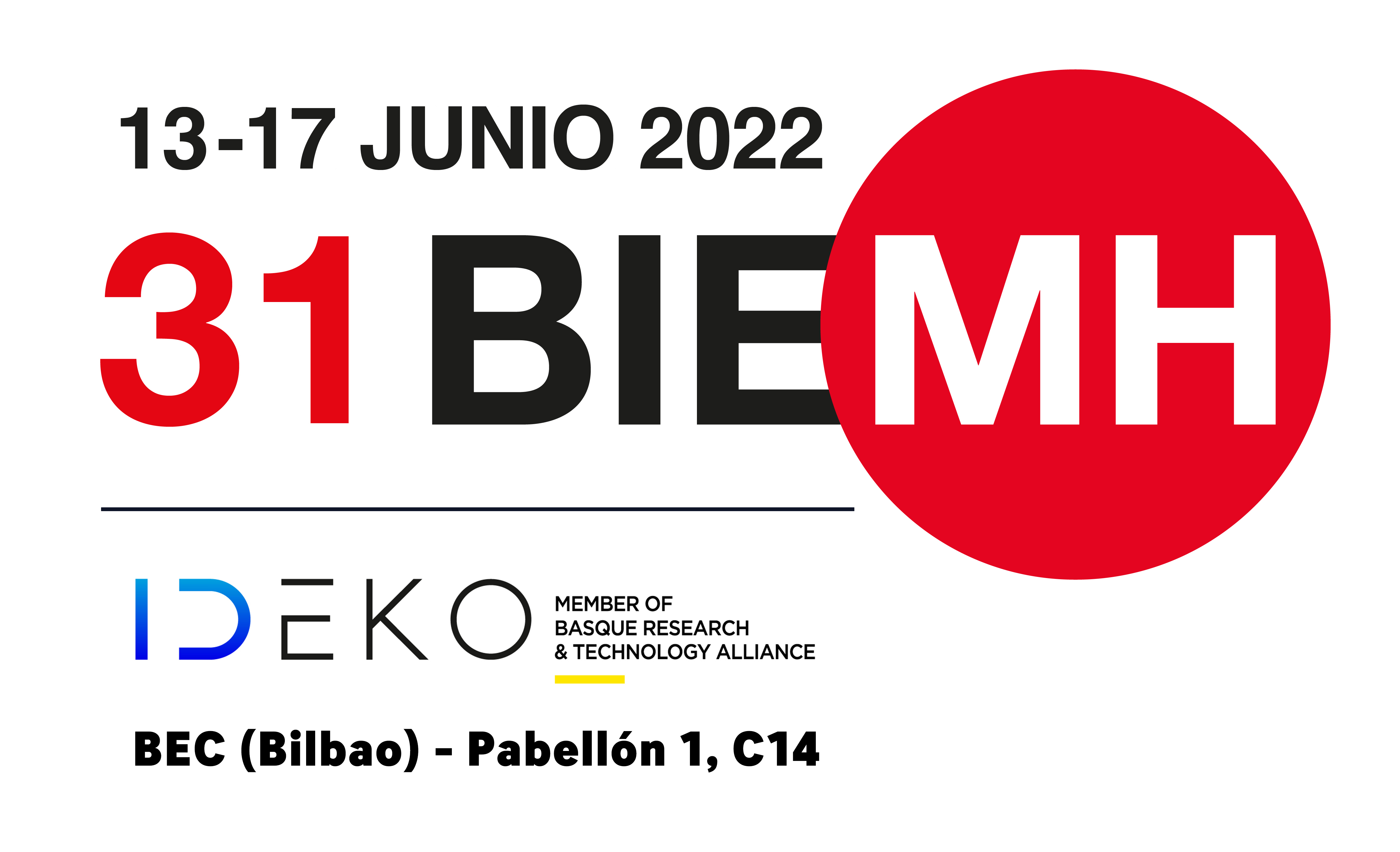 The research centre will offer various workshops about new digital tools to optimise maintenance and improve productivity at its stand C-14, B-15 located in Hall 1.

The company will show how photogrammetry-based 3D vision systems help robots increase accuracy in machining tasks.

IDEKO will showcase the manufacturing process of parts made with UV-cured glass fibre reinforced polyester.

The Machine Tool Biennial is held at the BEC in Barakaldo from 13 to 17 June.
Industrial processes are in the midst of a new revolution led by the pursuit of efficiency and productivity. If automation was at the centre of the so-called Industry 4.0, it now is sharing space and prominence with a new phase in which artificial intelligence acts as an integrating element between humans and machines, robotics is becoming increasingly precise, and technology has opted for more robust, flexible, sustainable and versatile materials.
In order to consolidate this new production scenario, close collaboration between all the players in the industrial ecosystem is necessary to design innovative solutions to bring about a better productive fabric and an easier transfer of knowledge to society in general.
In this scenario, the research centre IDEKO, a member of the Basque Research & Technology Alliance (BRTA), will be present at the 31st edition of the Machine Tool Biennial, 31BIEMH, with innovative solutions in several of the areas that are set to lead this paradigm shift, such as artificial intelligence applied to manufacturing and precision, two of the main driving forces of the research plan recently approved by the company.
The research centre, with stand C-14, B-15 in Hall 1 of the BEC, will showcase its capabilities in artificial intelligence applied to manufacturing through different workshops that can be attended in person and via streaming. Furthermore, the advances made in precision and robotics are displayed, as well as the composite material parts manufactured for the aeronautical and railway sectors, and finally the solutions for chatter suppression in the machine tool sector.
Artificial Intelligence Pills for Industrial Companies
Through these five talks, Iñigo Bediaga, head of IDEKO's ICT and Automation group, will show the benefits of implementing artificial intelligence technologies in manufacturing, a technology that makes it possible to transform machine data into useful information and optimise the production processes of industrial companies.
Robotics and precision
We will present a robotic solution to automate a finishing operation of a part with complex geometry. The robotic cell consists of a 3D vision and inspection system that enables robots to provide the measurements and dimensions and spatial location of objects.
Composites
We will show the different stages of the manufacturing process of 2 pieces of UV-cured glass fibre reinforced polyester. Two parts made of composite materials, which, thanks to their tenacity and weight, are suitable for demanding sectors such as aeronautics and railways.
Chatter diagnosis and suppression
IDEKO's solutions for the diagnosis and suppression of chatter on machines and machining processes include verification and fine-tuning phases by carrying out tests to determine the behaviour of the machines.
Competitive intelligence
Competitive intelligence and technology watch systems are platforms for capturing and filtering all information with an impact on strategic decisions of companies. During the BIEMH, a workshop will be held on the INNGUMA platform, software geared for Competitive Intelligence and Technology Watch developed by IDEKO, capable of automatic monitoring of areas of interest for companies, capturing information from websites, social media, videos, patents and even prices. The talk will be given by Eneko Arza, CEO of the company.