30/03/2017
Intelligent, flexible and safe robots for a more competitive manufacturing industry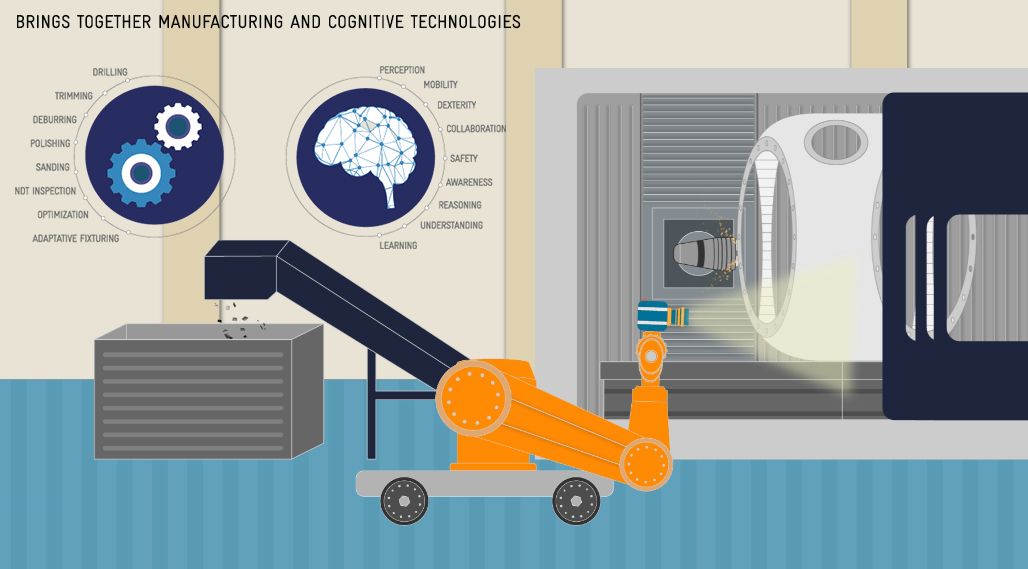 The COROMA European project, seeks to develop a new robot concept with capacity to carry out multiple industrial tasks autonomously.

The initiative, that got underway at the end of 2016, has the participation of a consortium of 16 international partners, a budget of €7 million and will last for three years.

The project will develop three robotic applications geared towards the manufacture of metal and composite material parts capable of interacting both with humans and other machines.

The COROMA (Cognitively Enhanced Robot For Flexible Manufacturing of Metal and Composite Parts) European project, an initiative coordinated by the IK4-IDEKO technology center, and seeks to develop a new intelligent, modular and flexible industrial robot concept with the capability to carry out multiple processes and manufacture of metal and composite material parts for sectors as demanding as aeronautics, shipbuilding and energy generation.
COROMA has a budget of more than €7 million, of which 6 have been funded by the European Commission through the program to boost research and innovation, Factories of the Future, within the Horizon 2020 multiannual framework.
The consortium has the mission to develop a modular robotic system that will carry out numerous manufacturing tasks that are adapted to production requirements. Specifically, the new system will carry out tasks such as drilling, trimming, deburring, polishing, sanding, non-destructive inspections and could even be used as a moving support for the manufactured parts themselves.
To achieve this, the system will be equipped with a simple interface for the robots to receive basic commands that require minimum programming effort by the human operator. The technical team will work to ensure that the design will allow quick programming through the human-robot interface.
The control system will also be optimised so that the robotic system is aware and reactive to the process condition.
The modularity of the COROMA robotic system allows it to be adapted to the specific requirements of different manufacturing companies.
The initiative, which began at the end of last year and will conclude in October 2019, has the participation of a total of 16 companies, research centers and universities, as well as a standardization body from seven different countries.
Download complete press release of COROMA project