23/07/2012
IK4- Ideko will help you carry out a self-diagnosis on Operational Excellence of your company.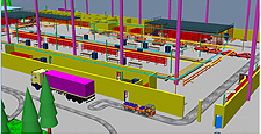 The self-diagnosis is in the form of an online questionnaire that allows companies to assess the level of their organisations and processes in the field of Operational Excellence, and allows work areas to be identified for improvement.
Based on different levels, over some 30 questions, users identify their current situation and mark the status or level they wish to attain on each question.
Furthermore, as there are different levels, users can make a note of their observations, thoughts and ideas for improvement in a comment field for each question.
When carrying out the self-diagnosis, it is advisble that the user has an overall view of the organisation in order to obtain non partial results. The questionnaire takes about 30 minutes to complete.
As a result, in addition to an estimation of the current situation, areas to work on can be identified by means of dispersion and radar graphs. Furthermore, by means of a comparison with the IK4-Ideko model, the recommended actions - modules to take are identified.
Finally, if the user so wishes, there is an option to have an analysis conducted by an Ideko IK4 Operational Excellence expert, for a more detailed analysis of the organisation and/or have the analysis and results (with graphs) of the self-diagnosis presented free of charge in pdf format and sent via email.