05/09/2012
IK4-Ideko at yearly CIRP congress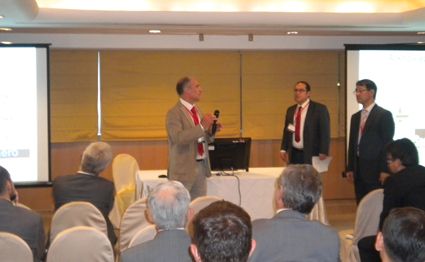 The general assembly and annual congress of the International Academy for Production Engineering, CIRP, was held in Hong Kong, from 18 to 25 of August.
At this year's edition, IK4-Ideko was actively and prominently present with the publication of two articles and conducting two technical presentations by Mikel Zatarain and David Barrenetxea. The main presentation, as is customary on the theme of accepted articles, was conducted by Mikel Zatarain and dealt with the new technology developed by one of the 8 research lines of IK4-Ideko, i.e. the inspection and measurement line for verification and alignment of blanks using photogrammetry techniques. The second article in which IK4-Ideko was involved was the Keynote paper regarding advances in centerless grinding technology, which was presented by Fukuo Hashimoto Timken. Finally, David Barrenetxea gave a presentation on using strategies in the combination of variable speeds in the settings of plunge grinding cycles.
Noteworthy was also the high level of the rest of articles and presentations at this R&D forum in manufacturing technologies. The 45th edition was attended by as many as 400 researchers from leading universities and international institutions as well as from 149 companies in the field of machine tools and manufacturing, members of CIRP. At this year's edition, Caterpillar and Eurocopter have also joined the organisation.