31/05/2018
The Basque Research center has launched the spin off INNGUMA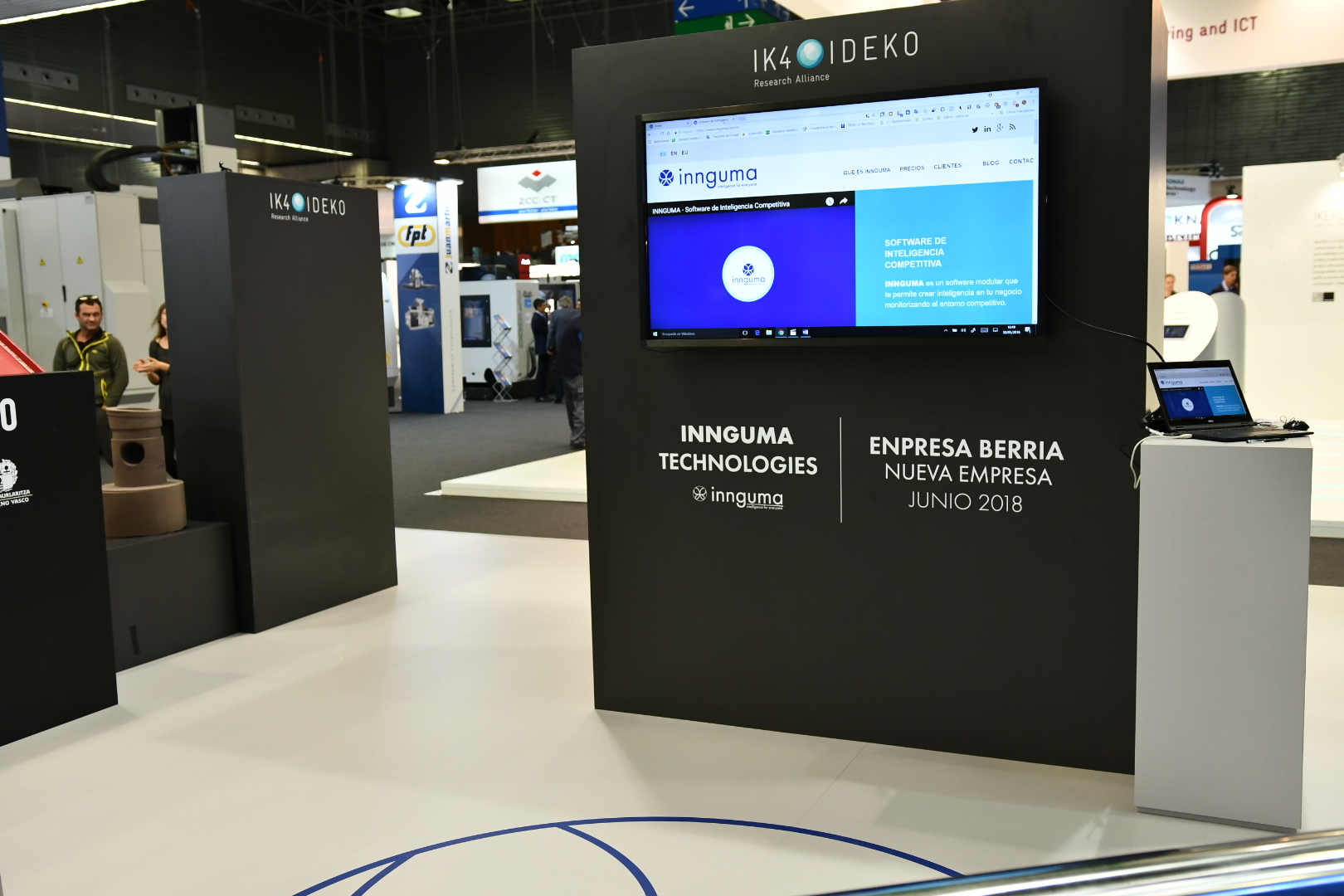 The Basque Research center has launched a spin-off to facilitate the expansion and commercialization of its competitive intelligence software

The official incorporation ceremony of the company took place at the Machine-Tool Biennial

IK4-IDEKO owns 100% of the share capital of this spin off, which expects to quadruple its turnover in the next two years
The Research center specialized in Advanced Manufacturing IK4-IDEKO has created a new company to promote the expansion, development and commercialization of its competitive intelligence software called INNGUMA.
The constitution of the new company was formalized at an event held yesterday, May 30, during the thirtieth edition of the Machine Tool Biennial (BIEMH), an event in which the entity of Elgoibar is having a prominent presence.
"One of our founding objectives as a Research center is to transfer the solutions we develop and the knowledge we generate through our research activity to the industry and society as a whole. The constitution of INNGUMA responds to this mission ", assured the exploitation director of IK4-IDEKO, Ibon Serrano.
The entity, which is the promoter of this new firm, starts with the participation of 100% of the social capital of INNGUMA, a business initiative to which the research center contributes both the self-titled software of its own development, as well as its research know-how and development of innovative competitive intelligence solutions aimed at the industry.
In addition to the start-up of the new company, IK4-IDEKO will monitor and follow up on its first steps and will provide technical support from its ICT and Automation department.
"The main objective of this spin off is to advance from the scenario of sustained and organic growth in which INNGUMA is currently in a new space of exponential growth, always with the technical support of IK4-IDEKO", says the new CEO of INNGUMA, Eneko Arza.
The CEO, who before joining INNGUMA participated with his previous start up in the WAYRA accelerator of the Telefónica group, believes that the strong organic growth of the software "has given rise to a strong commitment to the project".
The new company previews to finish 2018 with a turnover of 200,000 euros, a figure that INNGUMA's manager expect to multiply by four over a two-year horizon.
Competitive intelligence for SMEs
Developed by the software specialists of IK4-IDEKO, the INNGUMA platform was launched three years ago and currently has a portfolio of 30 clients that support the undertaking of this new stage in its journey.
The competitive intelligence and technology surveillance systems are a key element in the strategic decision making processes of the companies because they allow to have quality information on the sector in which they work and to know better their competitive environment.
In this context, the INNGUMA platform is designed for the capture, processing and analysis of information, facilitates the creation of intelligence and surveillance units in the business and improves the management of resources regardless of the size of the companies.