![if !IE]> <![endif]>
NEWS
Last news about IDEKO.
12/11/2010
Successful participation of Ideko-IK4 in the 18th Machine Tool and Manufacturing Congress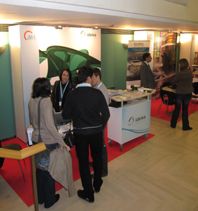 It participates with 8 communications on innovating subjects such as micromanufacture and laser cladding. During the congress the investigators of the different lines of investigation of the Ideko-Ik4 have exhibited 8 communications in the different scopes and technologies like the reduction of vibrations, the micromanufacture, the laser cladding, management of the production by means of VSM techniques, hydrodynamics (magnetic fluids), great dimensions machines and the binomio machine-process in aspects related to grinding and ecology, they have explained the results of their last investigations.

The Outstanding KeynoteThe assistants to the congress valued positively the presentation of the Key Note on "Mechatronics to the service of the machine.Presented in collaboration with Tekniker-IK4 was given an wide vision on the tools used for the dynamic optimization of the machine in the design phase, as well as a review to the state-of-the-art in the last mecatronics advances in the machine tool.
The congress of the Precision. This has been the 18th edition of "Machine Tool and Manufacturing Technologies" Congress, organized by AFM (Spanish Association of Manufacturers of Machine Tool) The Kursaal Palace in San Sebastián has been the venue for this biennial event Donostia-San Sebastián. Ideko-Ik4 has collaborated with the organization of the congress together with the major machine tool area technology centres, Aotek, CIC Margune, Koniker, Tecnalia and Tekniker-IK4, universities such as Mondragon Unibertsitatea, Tecnun and UPV/EHU as well as companies Juaristi, Fagor Automation, Fagor Arrasate and MTorres. Throughout the three days of the event, Ideko-IK4 has been present with a stand were diverse doubts arisen throughout the communications presented by the center's investigators were clarified. This event was inaugurated by the General Deputy of Gipuzkoa, Markel Olano, and the ceremony was closed by the Advisor of Industry and Innovation, Bernabé Unda, and the director of Innovation of the ministry of Science and Innovation, Juan Tomás Hernani.
This sector congress has been held since 1976, is an essential appointment for researchers, experts, manufacturers and customers who bet by the innovation. It promotes the interchange of knowledge and technology between manufacturers and researches, and favors its application to the productive processes, making easier the adaptation of the companies to the increasing technical exigencies of a market in constant evolution, and thus increasing his competitiveness.