08/05/2015
IK4-IDEKO increases its direct contracts with companies by 7%, which represents 65% of its income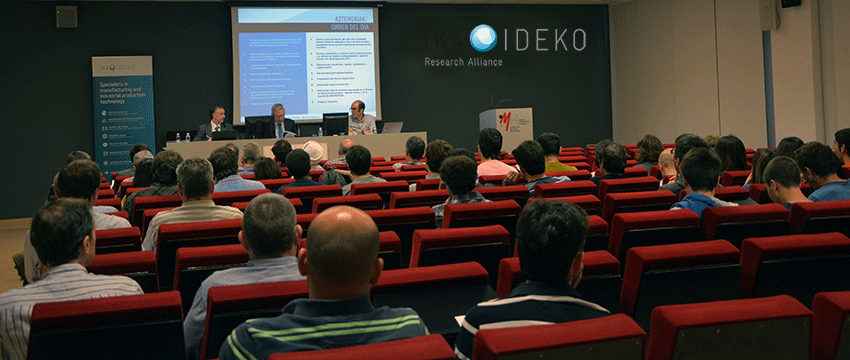 The IK4-IDEKO Technology Centre, specialist in Advanced Manufacture, recorded an income of 7.8 million euros in 2014
This year, a new laboratory for non-destructive testing will be opened.
In 2014, IK4-IDEKO increased its income from direct contracting by private companies by 7%, an activity that represents 65% of its business volume. The Basque company's commitment to R&D&I has enabled the technology centre to record a total income of 7.8 million euros over the past year.
The balance sheet was presented by IK4-IDEKO within the framework of its annual meeting, which was held this afternoon in Elgoibar. The technology centre presented its credentials as a benchmark in the Basque Country for research applied to Advanced Manufacture.
"These positive results are not by chance, but are the result of efforts made in the development of a market oriented R&D&I and commitment to creating our own relationship model with the company that enables technology to be transferred very effectively", said Ramón Uribe-Echeberria, the Managing Director of IK4-IDEKO.
The technology centre has a set of its own tools for strengthening its links with the business sector; for example, its firm commitment to the field of Competitive Intelligence and its medium and long-term collaborative schemes that facilitate the creation of strategic alliances with companies and the design of innovation projects that increase their competitiveness.
The technology centre, as part of this close collaboration with the demands of the production sector, has launched an active damping technology onto the market in the machine tool sector that eliminates vibrations in machining processes and is a global first.
This development is part of IK4-IDEKO's strategy to consolidate its position as a benchmark in Advanced Manufacture, this strategy consists of a series of innovative techniques which enable rapid transfer of technologies from R&D&I to real production processes.
Active in institutions, committed to training
Further to its commitment in the business sector, IK4-IDEKO constantly develops its own research activities that enable it to progress in technological innovation and improve the technical training of its professionals.
To achieve these objectives, the centre plays an active role in the main R&D support programs promoted by the various administrations, such as the Basque Government, European Commission and the Spanish Government.