28/10/2021
IDEKO debates the machining technology of the future in Germany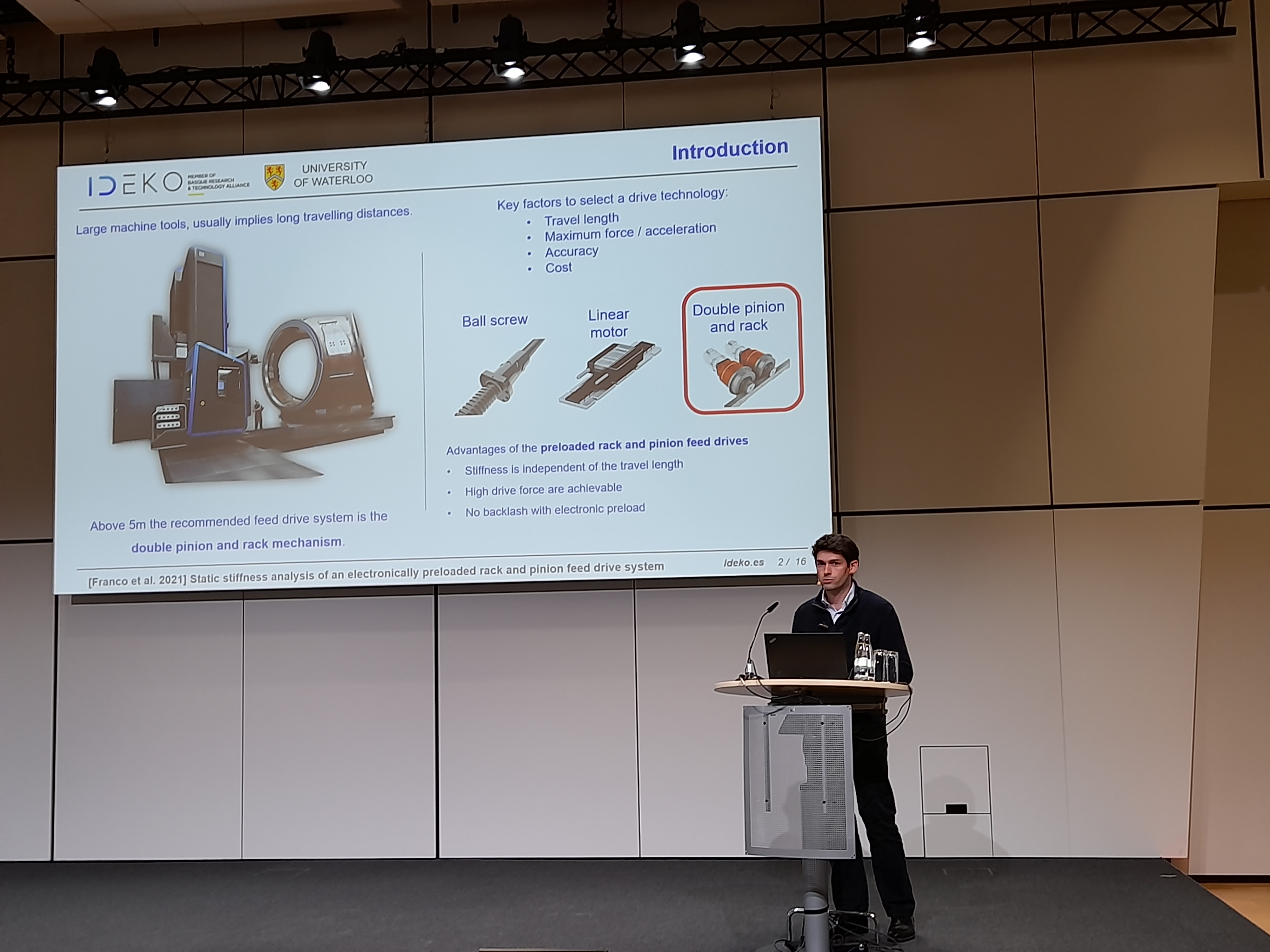 This week, four researchers from the research centre attended the HSM 2021 international conference, held in a face-to-face/distance hybrid format in the German city of Darmstadt.
In addition to giving various presentations focussing in on high-speed machining, the experts were also members of the convention's Scientific and Executive Committees.
The research centre specialised in Advanced Manufacturing IDEKO played a prominent role at the latest edition of the international conference HSM 2021, an event specialising in high-speed machining and machine tool design. The event debated the latest technological trends in the field of manufacturing and digitisation applied to manufacturing.
On October 26th and 27th, four IDEKO researchers attended the event in person in the city of Darmstadt (Germany) contributing with their knowledge in machine dynamics and control. Specifically, the experts from the research centre, member of BRTA (Basque Research and Technology Alliance), gave several presentations and sat on the Scientific and Executive Committees of the convention.
The presentations were given by Markel Sanz and Xavier Beudaert, researchers in the dynamics and control group, and Jokin Muñoa, leader of the Dynamics and Control research group and the scientific director of IDEKO. Monica Gil was present at the forum as co-author of the presented research projects.
Sanz was in charge of presenting an in-depth analysis into chatter limiting in thin-wall milling processes.
"We have shown that, although it is possible to find optimal engaging that minimises the likelihood of flip chatter, it is impossible to completely cancel flip chatter by simply tuning radial engaging, which leaves tuning the tool helix as the only way to avoid flip chatter completely," says Markel Sanz.
Meanwhile, Muñoa presented a diagnostic method for detecting errors in machined parts that has been successfully applied in various machining operations, such as turning and grinding.
"The experimental results validate the diagnostic method and verify that the procedure is effective for the identification of topographical defects caused not only by chatter but also by forced vibrations coming from the kinematic chain (unbalance, beating ...)," explains Jokin Muñoa.
Finally, Xavier Beudaert shared with the participants the research results in identifying the origin of superficial topography inaccuracies by following up the process.
Under the slogan "Digitalisation in the machining of the future", the 16th edition of the international HSM congress, sponsored by CIRP, has been the meeting point for professionals from different machining fields and has featured a full programme of presentations.
"It has been an excellent opportunity to share our knowledge and experience in high-speed machining and to showcase our progress in the development of advanced manufacturing technologies," concludes Muñoa.