21/07/2010
The DYNXPERTS project starts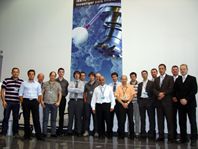 On the 20th and 21rst celebrated the "Kick off" meeting of DYNEXPERT project in IK4-IDEKO facilities with the assistance of all partners.Despite stiff international competition to obtain funding under the economic recovery plan of the EC, and more specifically, within the call for Public Private Partnerships "Factories of the Future" (PPP FoF-NMP), the IK4-IDEKO Technology Centre has won the coordination of the only European project with a Spanish coordinator, approved at the first call for projects in the FoF-NMP-2010 program.
The DYNXPERTS "Plug-and-Produce Components for Manufacturing Systems with Optimal Dynamic Performance" project aims to create manufacturing systems with easy-to-implement devices (according to the "Plug-and-Produce" philosophy), capable of adapting their properties and performance to the changing conditions of the process.
These "plug-and-produce" components will be self-sufficient provided with intelligence, with built-in advanced sensing systems and actuator functions, and several applications are in turn based on smart materials.
The DYNXPERTS project comprises a consortium of 12 partners, five of them Spanish, from five European countries. The consortium has a balanced participation of companies, research centres and universities and has a budget of 5.1 million euros, with EU funding of 3.5 million euros. The DYNXPERTS project has a duration of 3 years and was officially launched on June 1st 2010.