28/10/2012
IK4 positions itself in Prestik as the job location of choice for young researchers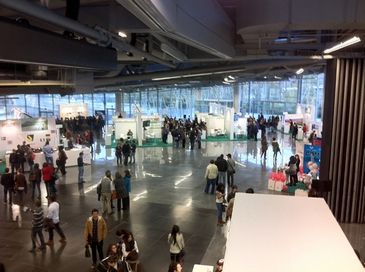 Today, IK4 is the preferred place of employment for young people hoping to develop a research career in the Basque Country. This has been confirmed by the Basque R&D&i Alliance as a result of its recent participation in Prestik, the youth employment fair of Bizkaia, which has been visited by over 10,000 young people under 30 and has been the scenario for 500 meetings and job interviews.
The IK4 offer, presented at its own stand in the fair, drew hundreds of people ranging from youngsters who have done vocational training or university studies and who want a career in research without finding themselves having to emigrate, to young entrepreneurs seeking opportunities for collaboration with their innovation-based businesses.
What is attractive about IK4 lay not only in the real possibilities of finding employment during the visit to the Gaiker-IK4 facilities in the Technology Park of Bizkaia, but also in the chance to find out about the research careers offered by the 9 R+D centres throughout the Basque Autonomous Community (region) and which belong to the Alliance.
Likewise, its presence at Prestik has enabled IK4 to consolidate its position as a top R+D alliance for future researchers, to seek profiles that fit the job offers at its centres and to obtain interesting professional profiles within its work to recruit talent.
In the words of Iñigo Icaza, IK4's head at the fair, the presence of IK4 at Prestik can be regarded as a "total success" in terms of the large numbers of young people approaching its stand and also the leadership positioning obtained. Despite the bitter-sweet taste left by the confirmation on the ground of the difficulties facing young people in joining the labour market, Iñaki highlights the "highly qualified" profiles of the new generations and their "strong desire to work".