01/09/2021
Outstanding presence of IDEKO at the CIRP General Assembly, the most important international forum on Advanced Manufacturing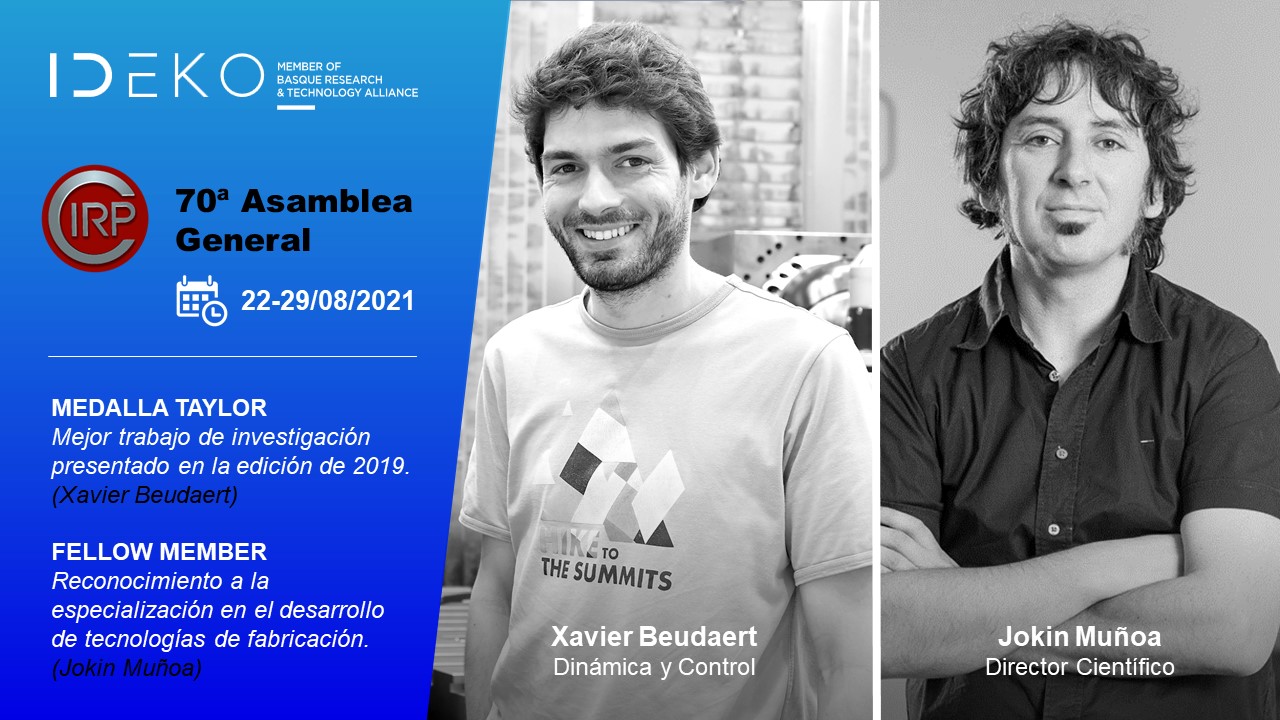 The research centre participated in the 70th General Assembly of the International Academy of Production Engineering (CIRP).

At this year's virtual Assembly, the IDEKO researcher Xavier Beudaert was awarded the Taylor Medal and the scientific director of the research centre, Jokin Muñoa, was appointed Fellow Member of the Academy.
The research centre specialising in Advanced Manufacturing IDEKO, member of the Basque Research and Technology Alliance (BRTA), has had a prominent presence in 70th General Assembly of the International Academy of Production Engineering (CIRP), held online from August 22 to 29.
During this meeting, CIRP presented IDEKO researcher Xavier Beudaert with the Taylor medal, awarded by the Academy for the best research work presented in the 2019 edition. This recognition was awarded to Beudaert in the 2020 edition, but the official presentation of the award was put off to this year.
This award is an important milestone for IDEKO, as it is the first time that a researcher from Spain has obtained this recognition since its inception in 1958.
CIRP wished to recognise Xavier Beudaert for his scientific work in the field of portable active shock absorbers.
"For IDEKO it is a real pride to have a researcher of the stature of Xavier Beudaert on our team. His work in the field of dynamic machine control is setting new standards in international research and we would like to express our appreciation to him", says Muñoa.
The 70th Assembly also saw the election of Muñoa as a Fellow Member of the CIRP. The permanent appointment is a new recognition of the specialisation in the development of manufacturing technologies of the Basque research centre by the prestigious entity.
Within the different categories for the members of the Academy, the holders of a Fellowship are researchers who have an accredited trajectory in their field of specialisation, and as such are elected to be members of the international body for life.
The number of Fellows is limited and their election involves a long and rigorous process following criteria of excellence shown during their research career, for which, among other requirements, the sponsorship of four other fellows is required.
He is the third IDEKO expert to achieve this recognition after David Barrenetxea was appointed last year and Mikel Zatarain in 2009. At present, CIRP has about 170 permanent Fellows and 137 associate members.