24/01/2022
IDEKO strengthens the research team with a new PhD holder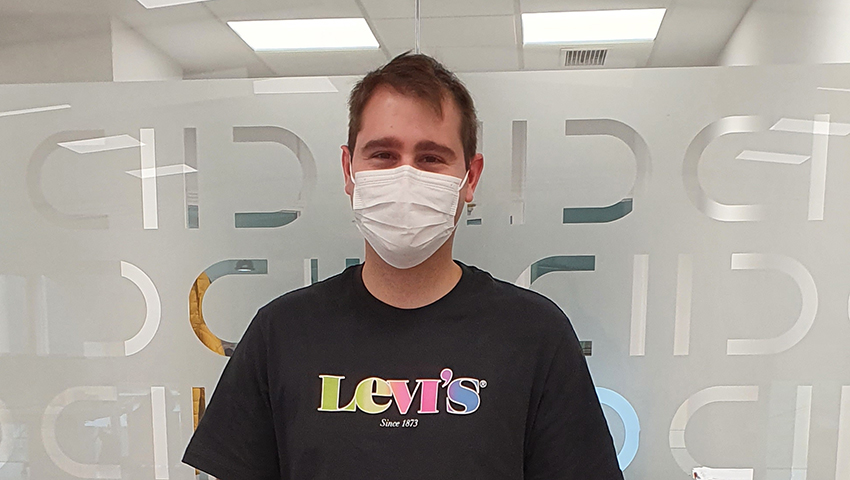 Oier Franco, a researcher at the technology centre, successfully completed and read his thesis on the influence of drives on the dynamics of large machines, for which he obtained the highest grade.



He defended his thesis before an international committee including representatives of Fraunhofer IWU, the University of California and the University of Waterloo.
The IDEKO research centre, member of the Basque Research and Technology Alliance (BRTA), true to its firm commitment to human capital and training its researchers, has added a new PhD holder to its staff.
The researcher Oier Franco, who joined the IDEKO Dynamic and Control research group while carrying out his final master's project about active suppression of chatter, has successfully passed his doctoral thesis with distinction.
The thesis was defended before a prestigious international committee that included experts Steffen Ihlenfeldt of Fraunhofer IWU, Sriram Naransimhan of the University of California (UCLA), and Soo Jeon and Steve Lambert of the University of Waterloo.
IDEKO now has a total of 35 PhD holders, representing 32% of its staff, a significantly higher percentage than just a decade ago (13%) and which continues to grow year after year.
A study of the structural dynamics of large machines
Franco's work focused on analysing the influence of feed drives on the structural dynamics of large-scale machine tools. The thesis was written over a period of four years under the direction of Xavier Beudaert and Kaan Erkorkmaz of the University of Waterloo, and in the framework of the Canadian CANRIMT II project, an initiative supported by the Danobatgroup.
Franco's doctoral work presents new insights into chatter suppression.
"Because of the dynamic characteristics of large machines, the vibrations generated by the cutting process are observed by the sensors used to locate them. On the basis of this idea, my thesis presents a new strategy of tweaking the positioning loops that allows to increase the cutting capacity for roughing operations," explains Franco.
At the same time, the researcher has observed that the dynamic characteristics obtained in motion demonstrate a capital influence of the existing friction in guiding. Therefore, the thesis analysed the interaction of structural dynamics, positioning control and nonlinear friction to improve the prediction of cutting capacity.
Finally, an operational method was developed to characterise the dynamics of the machine during the performance of a series of experimental cutting operations.
All claims of the thesis were experimentally validated, considering the influence of feed drives on the structural dynamics of large-scale machine tools.