25/05/2023
Applied AI solutions and chatter suppression techniques to optimize production processes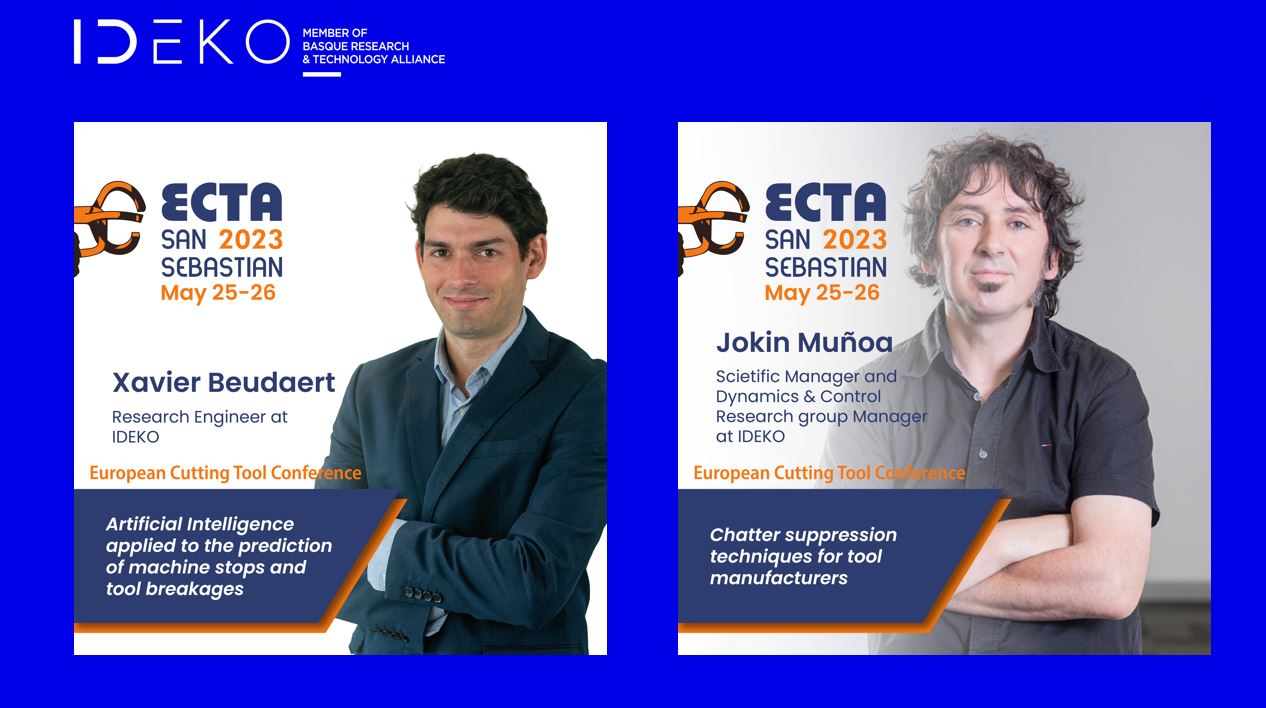 The technology center will show in two presentations of the ECTA Conference (European Cutting Tool Conference) various solutions to address the current challenges of the manufacturing sector

The event welcomes today the leading players in the machine tool industry in Donostia-San Sebastián to address the main challenges of the sector and strengthen cooperation.
From today, 25th May, until Saturday 27th , IDEKO research centre, member of the Basque Research and Technology Alliance (BRTA), is present at the ECTA Conference 2023 , organized by the Association of Machine Tool Manufacturers ( AFM ) in Donostia-San Sebastián.
This European forum and networking event is a meeting point between cutting tool manufacturers and clamping technology, agents that play a strategic role in extracting and holding material in machining processes. Throughout the event, the main strategic challenges of the sector are addressed, while cooperation and global networking are strengthened.
IDEKO, a leading technology center in the field of R&D for industrial processes, will participate in this conference to share its expertise in developing solutions to optimize production lines. Through two informative presentations, its researchers will delve into the development of solutions aimed at enhancing production line efficiency.
The researcher of the Dynamics and Control Xavier Beudaert will lead tomorrow, Friday, May 26, from 11:15 am at the Hotel de London in Donostia-San Sebastián the lecture "Artificial intelligence applied to the prediction of machine stops and tool breakages". During the talk, IDEKO's latest advances in predicting machine stops and tool breakage using artificial intelligence will be presented. IDEKO's knowledge of the AI possesses comprehensive understanding of the entire process: from data acquisition, analysis and treatment, to its application in monitoring the state of cutting tools.
"Through this technology we are able to detect machine stops and tool breakages before they occur improving production and being more competitive" says Beudaert.
Following this talk, Jokin Muñoa, scientific director of IDEKO and renowned expert in removing vibrations known as chatter, will show the public, advanced methods to eliminate the incidences caused by this phenomenon so that machining technicians can implement them. Muñoa will begin its presentation by establishing a clear distinction between forced and self-excited vibrations generated by the chatter.
Throughout his intervention, the expert will conduct a meticulous review of classic chatter suppression techniques, focusing especially on strategies based on tool design, including factors such as tooth number, variable step and propeller.
To conclude his exposition, Muñoa stresses the critical importance of damping as a strategy to counteract vibrations. In this respect, it will show practical solutions of cushioning, demonstrating its effectiveness in the fight against this phenomenon.
About ECTA
The ECTA Conference (European Cutting Tool Conference) annually brings together leading machine tool players in a European city to address the current and future challenges of the manufacturing sector.
The event serves to strengthen ties between entities and organizations in the sector, while creating new business opportunities.