08/06/2020
Where is precision engineering headed?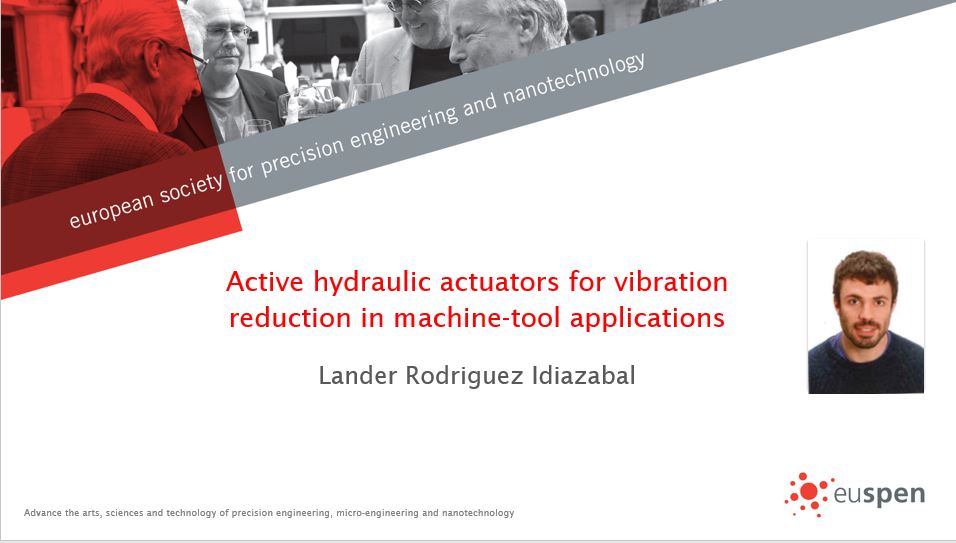 The research centre IDEKO is taking part in the EUSPEN international conference, which will be held online from 8th to 11th June

The entity will present research into improving the design of hydraulic actuators to be able to use them in frequencies close to 100 Hz
The latest trends in precision engineering, measurement systems, metrology, robotics, ultra-precision machining and additive processes will be the protagonists of the 20th International Conference of the European Society for Precision Engineering and Nanotechnology (EUSPEN), in which the research centre IDEKO will have a prominent presence.
The entity from Elgoibar, a member of the Basque Research and Technology Alliance (BRTA), will present its latest technological advances in machine precision at this forum, which will be held online from June 8 to 11.
Lander Rodriguez, a researcher in Design and Precision Engineering at IDEKO will present a technical paper at the online congress on research into improving the design of hydraulic actuators for use at frequencies close to 100 Hz.
"Conventional hydraulic actuators have limited bandwidth due to the inherent delays in hydraulic systems. Given the need to produce at high frequencies, we have designed a 1D model that allows us to obtain a good first approximation of the frequency response of actuator" explains Rodriguez.
Using this model, IDEKO has investigated what the determining parameters of frequency behaviour are. Based on the results of these simulations, an actuator has been designed that allows the required forces to be achieved at high frequencies. For a better approximation of its response, this design has been simulated in 3D in an FSI (fluid-structure interaction) module of a software developer, obtaining promising results.
This solution is the result of the work of IDEKO's Precision Design and Engineering group, which focuses on developing technologies for enhanced precision on machines through three different and complementary areas of specialisation: research and development of measurement solutions, experimental characterisation of thermal and geometric behaviour on machines, and design of new compensation systems, mechanisms and components aimed at providing precision in machines, systems and production processes for manufacturing parts.
The director of IDEKO's Precision Design and Engineering research group, Harkaitz Urreta, who is a member of the EUSPEN scientific committee, will also take part in the event.
The EUSPEN conference will also address disciplines such as nanotechnology, mechatronic precision systems and precision control and cutting processes.
Furthermore, other topics relating to robotics, automation, industry 4.0 for precision manufacturing, precision design in large-scale applications and precision engineering applications in biomedical sciences will also be addressed.
Initially planned as an on-site event at the European Organization for Nuclear Research (CERN) facilities in Geneva, the congress decided to change its format as a result of the Covid-19 pandemic.