09/11/2016
Technologies 4.0 to improve efficiency of factories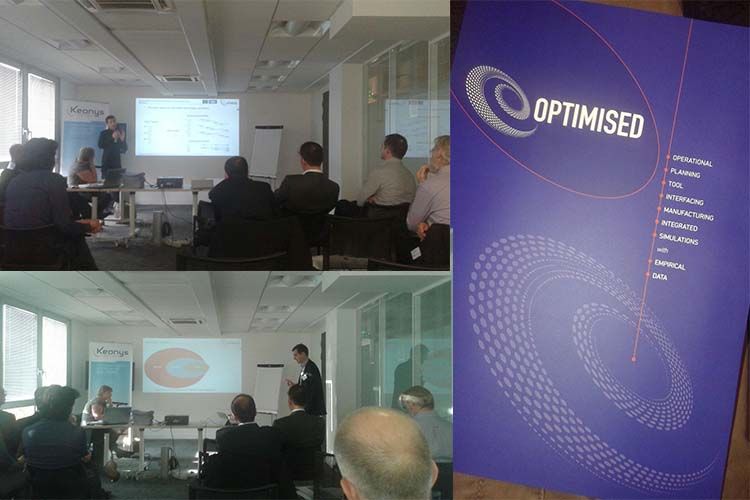 The technology centre IDEKO-IK4 is involved in the European project Optimised, an initiative based on the principles of Industry 4.0. The project seeks to raise the competitiveness of manufacturers by improving decision-making processes with the aid of techniques for data acquisition and interpretation in real time.
The project, with a funding of 7 million euros, is part of the support program for technological innovation Horizon 2020 run by the European Commission with a duration of three years. Over the next few days, we are meeting in Paris at the offices of the French partner Keonys to discuss the first year of the project.
The initiative entails developing a digital platform that consists of a virtual representation of factories on which real scenarios can be simulated, thus making it possible to make faster, more reliable and efficient decisions.
In addition, the project aims to improve maintenance processes, improve energy demand management, reduce downtime and interruptions and accelerate higher production outputs.
To achieve these objectives, we are in the process of developing data monitoring and catchment tools that use smart sensors that help optimise the simulation models. This allows to monitor the performance of machinery in real time, perform comparative analyses, detect critical points, predict errors and facilitate monitoring of the equipment status. The consortium of the initiative, led by the British company Laing O'Rourke, is made up of 10 companies from five different countries among which is
Goimek, member company of the DANOBATGROUP specialised in precision and large machining, and multinational companies such as Alstom or Dassault Systemes.
IK4-IDEKO is responsible for developing the architecture of real-time monitoring and simulation of one of the pilot projects to be used in the production plant of Goimek.
To achieve this, the technological centre will mobilise its extensive knowledge in modelling, simulation and optimisation of production plants and implement the latest advances in the field of Industry 4.0 aimed at monitoring processes, equipment and production lines with the aim of fully integrating all the above in the final platform.
The Optimised project will materialise in a leap forward in optimisation of manufacturing processes, which are until now very dependent on manual action, to implement adaptable and flexible cyber-physical systems that make the construction of integrated human-machine spaces possible.
The developed tools and models will be put to the test in real industrial scenarios and will use precise metrics to quantify the impact of individual results, as well as of the integral solution generated in Optimised.
The research framed in the project will be based on advances in manufacturing engineering and in information and communication technologies, particularly in networks of smart sensors, distributed control architectures, management and predicting energy demand, data search and optimised programming and planning systems.