27/05/2021
New developments for optimising advanced manufacturing processes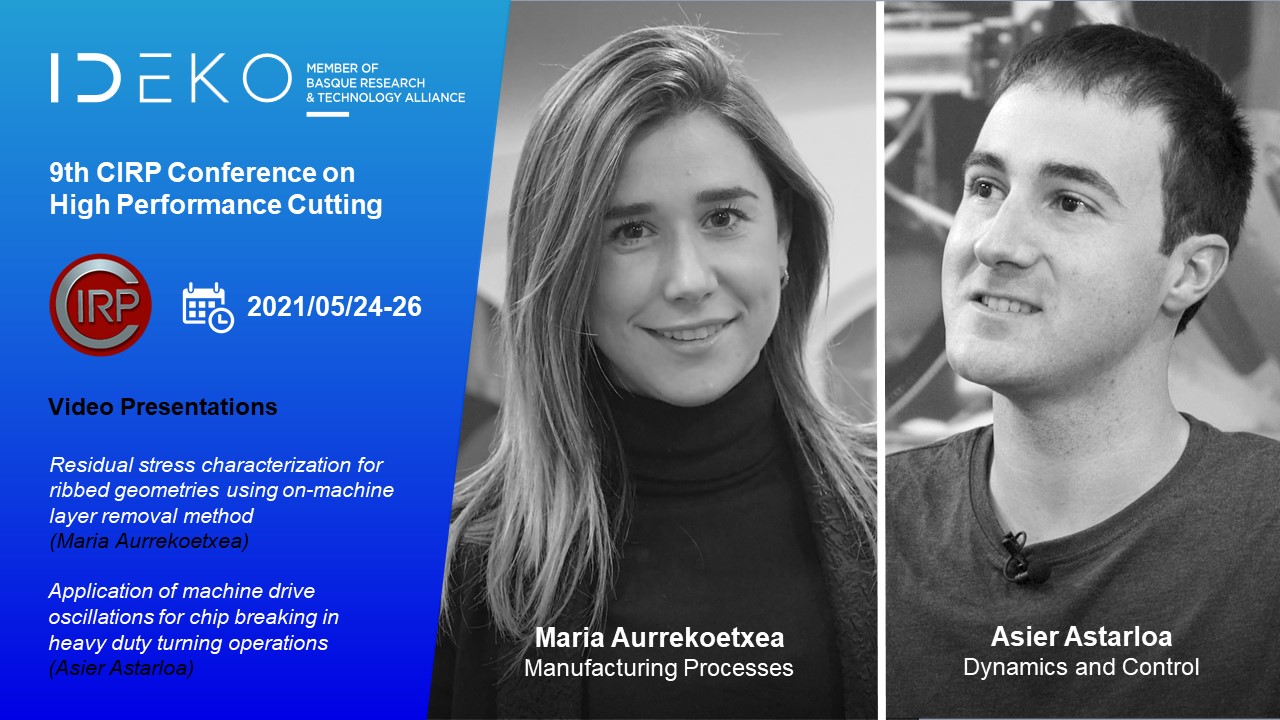 IDEKO has presented its latest technology aimed at improving processes such as turning and milling at the ninth High Performance Cutting 2021 event, held online between 24 and 26 May.
At the event, the researchers Asier Astarloa and María Aurrekoetxea presented the latest solutions from the entity on the control of chip generation and the minimisation of distortion during machining.
The quality of many manufacturing processes based on stock removal is defined by the chip formation process. In continuous processes, such as turning, the generation of long chips is one of the main obstacles, as it can erode the final surface of the workpiece, cause production stoppages or require manual removal.
The Basque research centre IDEKO, a member of the Basque Research and Technology Alliance (BRTA), presented its latest technological developments for the optimisation of these industrial manufacturing processes at the High Performance Cutting 2021 (HPC) European Forum held virtually between 24 and 26 May.
Specifically, Asier Astarloa, a specialist in IDEKO's Dynamics and Control research group, took part in the event and exhibited a new technique for swarf generation control during turning.
The work presented by Astarloa focusses on a system that automatically selects the most appropriate oscillation parameters according to the oscillation capacity of the machine and process characteristics. The experimental validations showed the positive effect of this system in reducing the length of the chip and improving its removal.
For her part, IDEKO's manufacturing processes researcher, María Aurrekoetxea, also participated in the virtual meeting, where she presented the work carried on for minimising distortion during the machining of high-precision components.
"The residual stresses of the blank workpieces are key when minimising the distortion after machining of high-precision components. While the majority of volumetric stress characterisation methods are limited to laboratory conditions, the presented method can be carried out on real size workpieces on the machining centre itself, with common tools and by non-specialist personnel" explained the expert.
The experimental results of the work presented by Aurrekoetxea demonstrated the potential of the method as regards its implementation in an industrial environment for the characterisation of stresses in the manufacture of workpieces with ribbed geometries.
The participation of IDEKO at HPC 2021 is a new milestone in its market positioning strategy, and is geared towards sharing its knowledge and expertise in advanced manufacturing and promoting the creation of synergies between the world of research and its industrial applications.
The event, which ended on 26 May, was organised by The University of Sheffield AMRC, an institution devoted to promoting competitiveness of companies through the introduction of advanced techniques, technologies and processes in the field of manufacture. It was the ninth event and is a key element in the dissemination of European R&D&I.