![if !IE]> <![endif]>
NEWS
Last news about IDEKO.
25/03/2011
IK4-Ideko participates in the technological and business forum on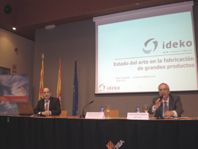 This conference presents an analysis of techniques and methodologies for damage inspection and emerging solutions in high-ranking metrology, portable and contactless applied to aeronautical, railway, eolical and naval sectors.

Last February 24 was held at the Hall of CREA, CREA building, Avda Ranillas N º 20, 50018 ZARAGOZA a technological and business forum on "Manufacturing and inspection of large dimensions products", organized by SAMCA (CPS- I3A). University of Zaragoza, Engineering Research Institute of Aragon (I3A). University of Zaragoza, IDEKO-IK4 Technology Centre and the Confederation of Employers of Aragon (CREA).
IK4-Ideko participated in this event presenting the "State of the art in manufacturing great products." Mikel Zatarain Gordoa, Head of Scientific Development of Ideko-IK4 was responsible for such disclosure.
Alberto Mendikute, Manager of Inspection and Measurement the Research Line of IK4-Ideko was the chairman of the discussion panel on "R&D+i in the inspection of damage". During this colloquio there was the opportunity to share the advances in the present science and technology state of the art within the NDT. The new opportunities offered by emerging non-destructive inspection techniques as active thermography for contactless inspection of damages in metal and composite components, EMAT transducers for contactless ultrasonic inspection of metals, new applications for ultrasonic inspection in the aeronautic industry and the application of thermography inspection methods for optimizing the fatigue test of high value components were some of the subjects they discuss about.