06/05/2012
IK4: Avant-garde technology for machine tools of the future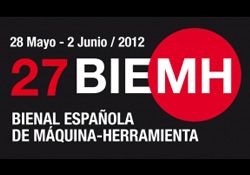 This year IK4-TEKNIKER and IK4-IDEKO will be showing their technological developments on a joint stand that will be displaying the innovation of the IK4 Alliance at the service of the machine-tool sector
The R+D centres will be showing advanced developments like laser equipment, systems for robotising artisanal processes or systems for reducing vibrations

(Bilbao. xx May 2012).- Ultraprecise laser equipment, advanced inspection and measuring technologies for the railway industry or advanced robotics for the automating of artisanal processes are just some of the developments that the IK4 Research Alliance will be presenting at the forthcoming Machine Tool Biennial, to take place at the Bilbao Exhibition Center (BEC) from 28 May to 2 June.
IK4 will have the support of two of its partners: the R+D centres IK4-TEKNIKER and IK4-IDEKO, benchmarks in the machine-tool sector, and which in recent decades have achieved a high degree of specialization; this allows them to put their advanced technological developments at the service of a whole range of applications.
Visitors heading for the stand located between aisles C08 and D09 of pavilion no. 1 in the Bilbao Exhibition Centre will be able to see first-hand a whole range of advanced technologies designed by IK4 at the service of machine tools. The functioning of these innovations of IK4-TEKNIKER will be all the more visible though a spectacular visual presentation based on 3D mapping (sample video of this technology). IK4-IDEKO will be showing two micromachining prototypes arranged in the form of cell that will produce intraocular lenses in situ.
Both IK4-TEKNIKER and IK4-IDEKO are active members of CIC marGUNE, the Co-operative Research Centre involved in High Performance Manufacturing. So they work together on important high technology research projects like Hiperión, which is aiming to position the Basque machine tool sector as the first purchase option worldwide in precision machines for large-sized parts.
The sum of the capabilities of the two centres constitutes the broadest and most powerful offer of manufacturing technologies in Spain, which puts them on the level of benchmark countries in this sector. IK4-TEKNIKER and IK4-IDEKO are collaborating closely within the IK4 Alliance by working together, optimising research costs with public funding, and customising technology transfer in an individual way and tailored to the client.
The pieces of equipment that the two R+D centres will be exhibiting in their joint pavilion at the Bienial are prototypes destined for machine tools and which reflect the potential of IK4-TEKNIKER and IK4-IDEKO as technological benchmarks for this sector; they are as follows.