25/10/2023
Digital solutions to address manufacturing precision and vibration challenges, IDEKO's proposals for CMH23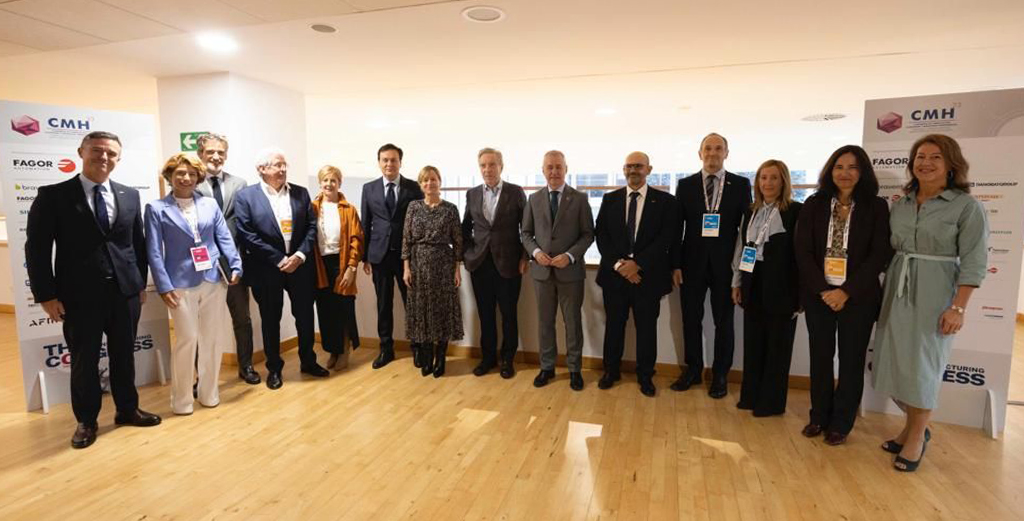 The research center will participate in the 23rd edition of the Machine-Tool Congress, organized by the AFM, which will take place from 25 to 27 October in Donostia-San Sebastián (Gipuzkoa).
IDEKO's experts will showcase their innovations in advanced manufacturing in five presentations and a poster.
Industrial digitalization has transformed parts manufacturing by incorporating digital technologies into production processes. Thanks to these innovations, machine tool companies can optimize their operations and the quality of the components they manufacture, as well as increase their productivity.
In this context, the 23rd edition of the Machine-Tool Congress (CMH) will take place, focusing on advanced manufacturing and its digitization, and will feature the outstanding participation of IDEKO, member of the Basque Research and Technology Alliance (BRTA). Organized by the Association of Machine Tool Manufacturers (AFM), the event will take place from 25 to 27 October in the Scientific and Technological Park of Gipuzkoa, located in Donostia-San Sebastián.
Under the umbrella of machining processes and advanced manufacturing technologies, scientific personnel, teachers, researchers, and students will be able to share their knowledge, experiences and showcase their latest developments.
This edition, besides being a silver sponsor of the congress, IDEKO, as a reference center in advanced manufacturing technologies, is a member of the scientific committee of the congress, represented by Jokin Muñoa, scientific director of the center, and will have a prominent role through five presentations and a poster in which will show different solutions to achieve an effective part manufacturing.
Automated inspection of forged components
The intervention of the technology center in the event will begin on Wednesday 25 with the talk "Sistema automático de inspección de componentes de forja con capacidades digitales" (Automatic inspection system with digital capabilities for forging components), by Francisco Pavón, researcher in Non-Destructive Inspection (NDT). It will present an automatic system using Artificial Intelligence (AI) and Phased Array Ultrasound technologies, a non-destructive inspection technique that detects defects in materials to study forged metal components.
The main feature of this solution is its adaptability. It has a digital platform that allows to define inspection protocols, and uses artificial intelligence, which evaluates the data collected during the machining process of parts. This allows the system to be versatile and inspect a wide variety of components.
As stated by the researcher, "the characteristics of this platform are essential for the creation of digital twins, which are virtual replicas of real components and which are positioned as key tools for achieving zero defects manufacturing".
Temperature analysis
David Barrenetxea, senior researcher in manufacturing processes, will present the paper "Plataforma digital para el control y optimización de procesos de rectificado" (Digital platform for the control and optimization of grinding processes). During the talk he will show a tool that combines advanced analytical models, process monitoring and data processing to create a digital twin that virtually simulates the machining of the part.
Thermal modelling of the process is one of the novelties of this solution. It consists of analyzing and understanding how temperatures change during the machining process, to anticipate unexpected changes before they occur. "This characteristic allows us to prevent damage early, reduce material waste and reduce energy consumption", the researcher emphasizes.
Thermal effect on accuracy
The conference sesion will continue on Thursday 26. Beñat Iñigo, researcher of Design and Precision Engineering, will present "Errore bolumetrikoaren karakterizazioa eta ziurgabetasan analysis of the tenperature aldaketen aurrean". The talk presented in Basque will deal with the Characterization of volumetric error and analysis of uncertainty in the face of temperature changes. It will showcase an automated and fast method for measuring volumetric errors on 3-axis machine tools.
This method calibrates the work area to avoid machine deviations and controls its accuracy over time as a function of temperatures, without w ithout requiring prior knowledge of temperature variations.
Autocalibration of the robot
For his part, Pablo Puerto will expose together with Brahim Ahmed, from Tekniker "Autocalibración basada en visión a bordo en robótica: Aprovechamiento de la puesta en servicio virtual metrológica y gemelos digitales" (An autocalibration solution based on on-board vision in robotics: Making use of virtual metrological service and digital twins). "Through a vision system with virtual tools, we have managed to improve the accuracy and start-up time of the machine tool," says the expert.
Impact of vibrations on parts
The participation of IDEKO in the presentation program will conclude with the intervention of the researcher of the Dynamics and Control group Mónica Gil in "Influencia de una vibración en el perfil de ondulación de piezas torneadas" (Influence of a vibration on the waviness profile of turned parts). During the talk, she will present a simulation model that allows predicting how some factors such as tool geometry, process parameters and vibrations generated during the contact between the tool and the piece to the part surface, affect,
The expert in Dynamics and Control stresses that "a specific vibration of the machine can generate multiple undulation patterns on the surface of the turned piece, generating an impact on its quality and finish".
Heat analysis in grinding machines
In addition to the presentations, IDEKO's participation in the CMH23 expands to the presentation of posters. In particular, the researcher Unax Lasa will showcase, in collaboration with the UPV, a graphic presentation that will address the importance of thermal stability in grinding machines, this machines require high precision and that may be affected by thermal effects.
In this line, Lasa points out that
"it is essential to understand how the temperature behaves in the machine and how this heat can be measured in several components in order to perform a better analysis to develop an effective machining strategy".